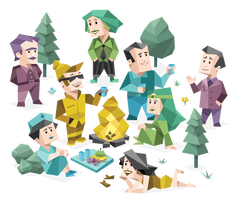 How you look + How you speak + How you act = Your Personal Brand

Have you ever noticed that many successful individuals have their own unique Personal Branding (vs. representing a specific company's brand)?

Warren Buffett (contrarian investor), Richard Branson (businessman adventurer), Jamie Oliver (successful chef) and even our very own Tessa Prieto (colorful media personality) have successfully branded themselves.

Simply put, Personal Branding is all about finding out what you want to represent and eventually be viewed to be an "expert" on it. Hence, Personal Branding gives you an edge over others and allows you to stand-out in your chosen field of interest.

How do you do it?

1. Be active and be consistent in what you publish across all potential media tools such as your own domain, Twitter account, Blogs, Facebook profile and Linked-in profile.

2. Keep updating your knowledge and learning about your chosen interest.

3. Dress and portray the image you want to project in real life.

If all goes well, you are ready to be seen as that successful Global Markets expert or that much sought Modern interior Design alchemist you wanted to be!