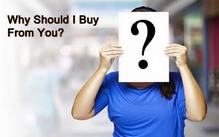 In my opinion, there are three (3) main reasons why a customer will buy from you:

1. You are Trustworthy

It means your customers believe (or you made them believe) that your product really works.


2. You are Convenient

Your products are readily available or you can deliver the products when your customers need it.

3. You are Affordable

Your products are within your customers' price range or at the low end of their price range.

You should understand, however, that Affordability is elastic and can be adjusted in your favor if you have the right combination of Trust and Convenience.

Therefore, you should focus on building more Trust and Convenience, and you can probably charge a higher Price to your customers.