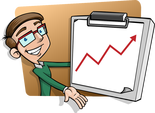 To stay ahead in the game, you need to constantly adopt new ideas to outsmart your rivals.

Here is a 4 point way to stay ahead of the curve:



How to Stay Ahead of The Pack!

1. Analyze Trends

Look at what's happening at other businesses.
Are they going online, outsourcing, streamlining, innovating, niching or expanding to new products and markets?

2. Watch the Competition

Are they doing something different than you? Can you identify their strengths and weaknesses?

3. Evaluate your Own Processes

Are there gaps or areas for improvement? Are we doing better or missing targets?

4. Look for Ideas for Change

Is there anything of value you learned from observing trends and the competition? Can you use these things to fill the gaps or further improve your business?