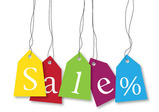 Below are some strategies to increase your sales:

1. Set-up a customer personal rewards or loyalty program

Offer discounts on their birthdays, anniversaries, or 5th-10th year of being a loyal customer.

2. Distribute free samples of new products

Offer samples of other products not currently used by your customers.

3. Offer early bird discounts

Inform new customers of upcoming clearance sales or new inventories that are about to arrive. Give them a discount for placing early orders.

4. Give your sales experts surprise incentive programs

Announce a free trip or free gift if the sales staff exceed their quota for the month. That would greatly motivate them!